Animal Classification Game – Differences Between Reptiles, Amphibians and Mammals
This science game helps children learn to practice classifying animals into groups – reptiles, amphibians, mammals, fish and birds. Besides learning the differences between amphibians versus reptiles, mammals versus birds, and birds versus fish, they will also learn to group animals along the lines of vertebrates versus invertebrates.
Whether you're a homeschool parent or a teacher in a classroom, this animal classification activity for kids is perfect for learning about the differences between different types of animals. It is also a great activity to use during the summer as a fun way to learn. After you've taught the topic in class, this game offers much-needed self-paced practice to reinforce.
Read More
When you're teaching your children about animals, consider using this animal classification game for kids. This science game can help them learn about the different species and how they are classified – reptiles vs amphibians, birds vs fish, mammals vs reptiles and so on. An easy way to get your children interested in animals is to play an animal classification game in the classroom. The game will present a number of different animals, with the categories flashing on the screen. You can then ask them to click on the animals that belong to their category. Children can classify an animal by deciding whether it is a mammal, reptile, amphibian, fish or bird. Then, you'll give them a score and encourage them to learn more about the different classes. Besides learning the name of the species, your child will also learn about the features of each animal type. Our animal classification games for kids are ideal for children who are learning about the animal classification system to gain extended practice. You will also find animal classification worksheets to support. To get kids familiar with animal classification, try using our animal classification worksheet to practice. They will learn about the different animals, including birds, mammals, and fish. This game is fun and educational for kids, and will help them develop knowledge of animal science. If you want your kids to learn about the different animals in the world, you can use animal classification games to help them learn about the different species. Some of these games even allow kids to identify their favorite animals and play matching games. Moreover, they are great ways for children to learn about the different species. While they are having fun with these activities, they are learning how to learn about animals. So, don't miss the opportunity to introduce your children to these fun educational activities!
Read Less
Worksheet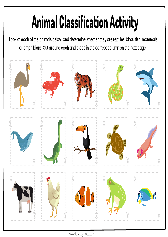 https://www.turacogames.com/wp-content/uploads/2017/02/space.jpg
176
250
turacogame
https://www.turacogames.com/wp-content/uploads/2016/10/Turacogames-300x135.png
turacogame
2022-03-27 05:06:26
2022-04-12 11:02:17
Animal Classification Game – Differences Between Reptiles, Amphibians and Mammals